In this article, we will walk you through Google Business Profile, its chat feature, and a way to avoid missing out on customers' messages.
One of the best ways your business can stand out is to provide excellent customer service, which includes being available for existing and potential customers whenever they need help and providing up-to-date information about your business. Excellent customer service means greater customer satisfaction, a stellar reputation, and more potential customers. In this article, we will walk you through Google Business Profile and its chat feature that can help you build customer relationships.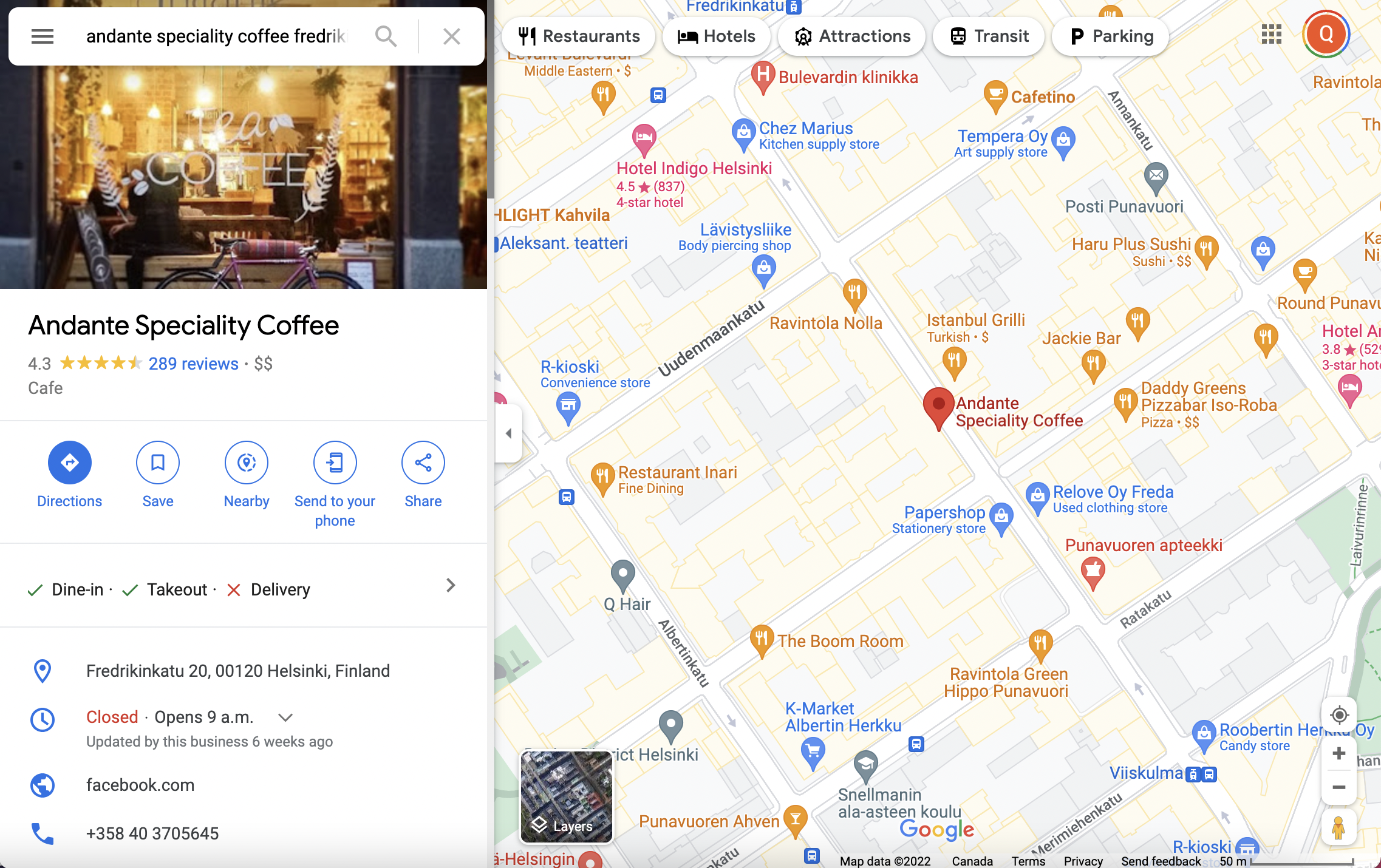 Example of a business listing that appears on Google Maps.
Google Business Profile is a tool that enables businesses to create a free business profile or listing that will appear across Google services such as Google Search and Google Maps. You can refer to Google's resources about how to add or claim your Business Profile on Google. The advantage of having a Google Business Profile listing includes:
Attract customers and gain more visibility through Google Search and Google Maps
Provide up-to-date information about your business such as business hours and attributes
Build reputation through star rating and reviews
Gain insights about your search performance across Google services
However, creating a Google Business Profile is not enough to meet customers' ever-growing demands. In order to optimize your Google Business Profile listing, you can also activate your Google Business Profile's chat feature, a free service accessible to your customers straight from your Google Business Profile listing. Did you know that 61% of customers would recommend friends to turn to other businesses with real-time communication?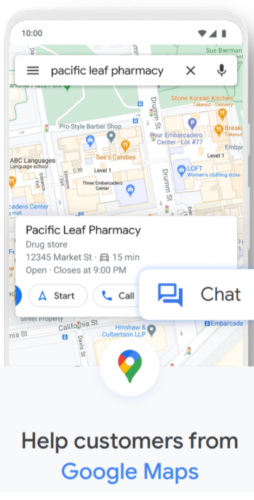 How the chat feature looks like on a business listing from the Google Maps app.
That is why we think the chat feature is a great way to be available to customers. By enabling a chat feature for your business, you can provide real-time communication that your customers crave. You can refer to Google's resources on how the chat feature works. You can activate your chat feature in just 3 easy steps below:
Step 1. Sign in to your Google Business Profile account.
Visit the Google Business Profile homepage, and sign in to your business listing.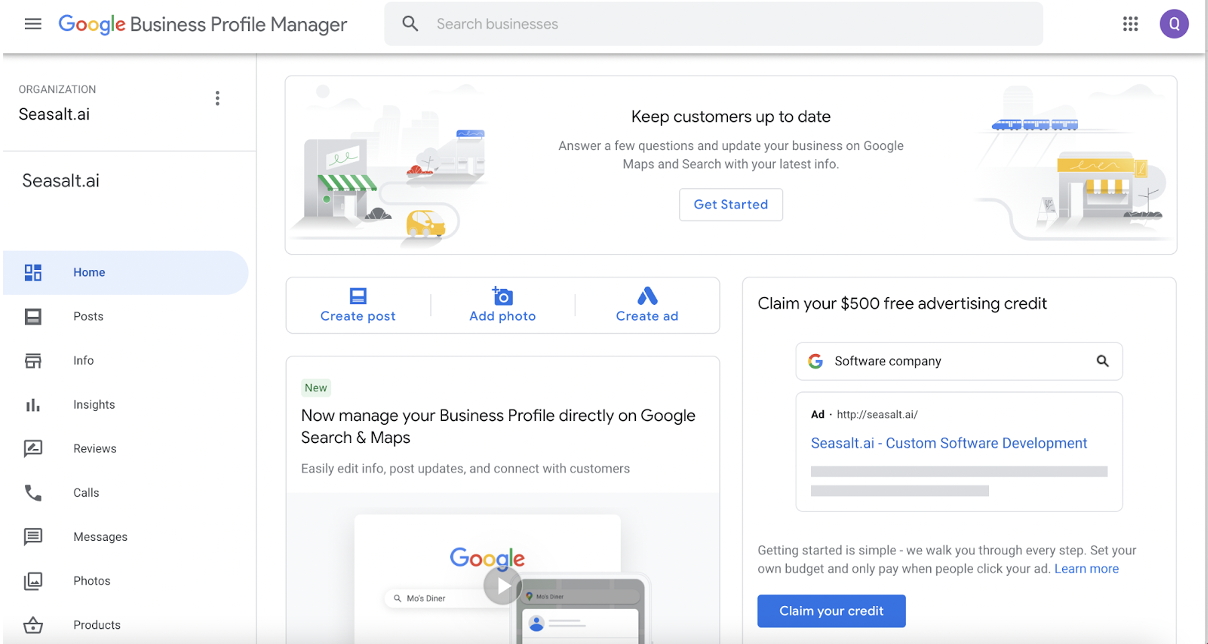 The Google Business Profile page once a business owner signed in.
Step 2. Head over to the Messaging tab.
The next step is to click the "Messages" tab on the left side of the page.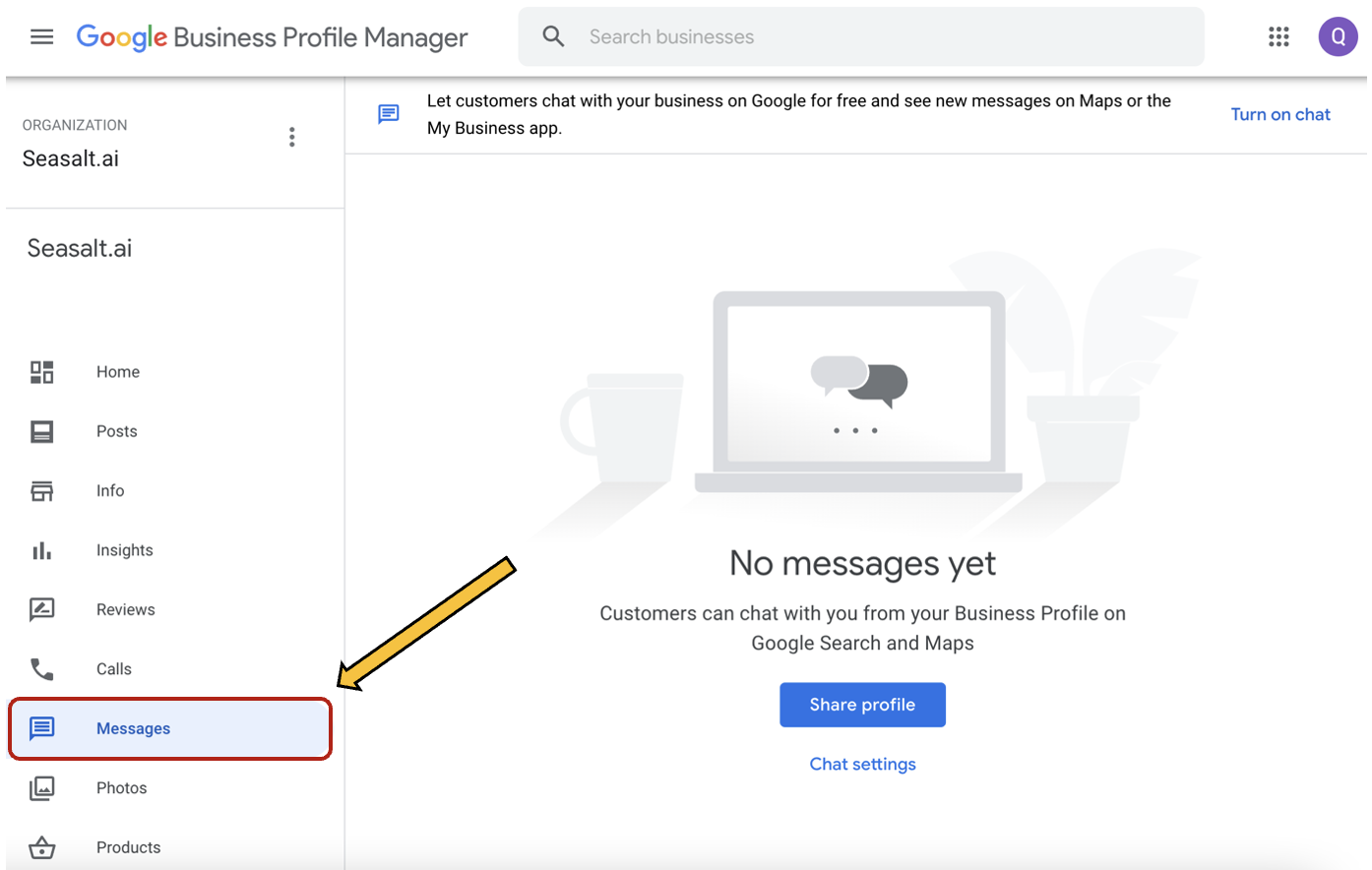 The interface of the Messages tab.
Step 3. Activate the 'Chat' feature on your listing.
Click the "turn on chat" button as shown below.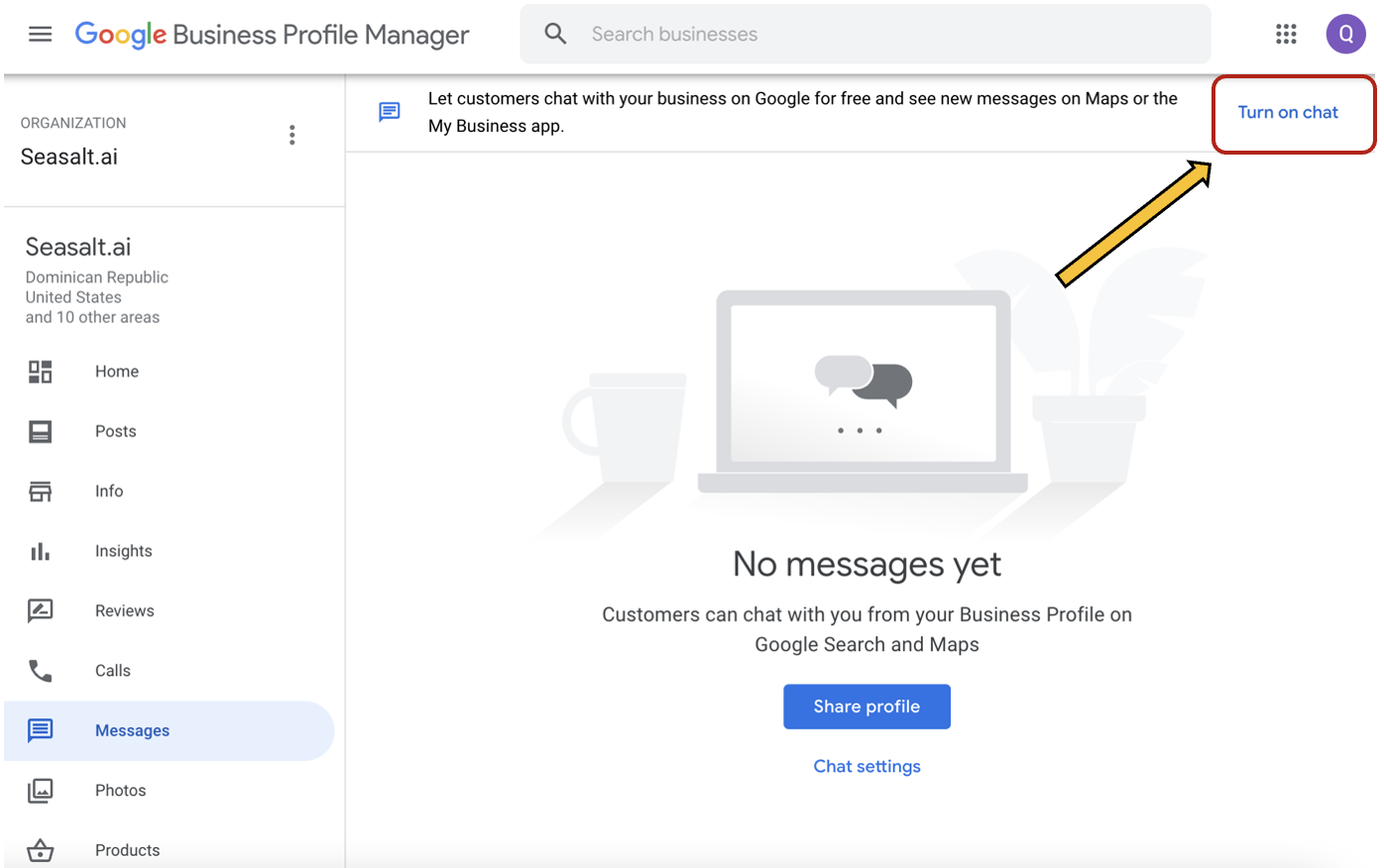 Click the Turn on chat button to activate the chat feature.
As soon as you click the "Turn on chat" button, a pop-up will appear to notify you that your chat has been activated. Google will also send you an e-mail notification about your newly activated chat feature.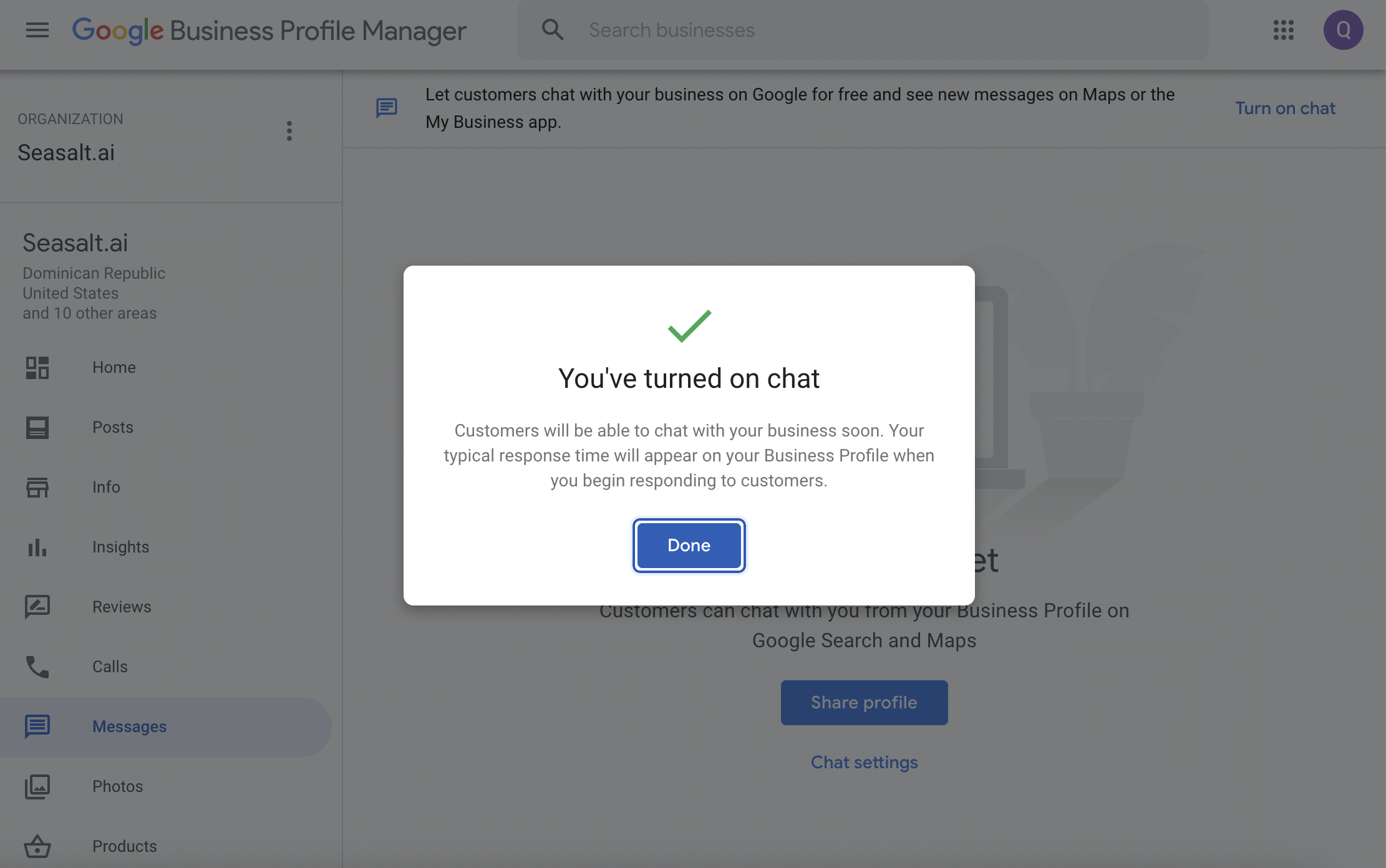 A pop-up page notifying a business owner that the chat feature has been activated.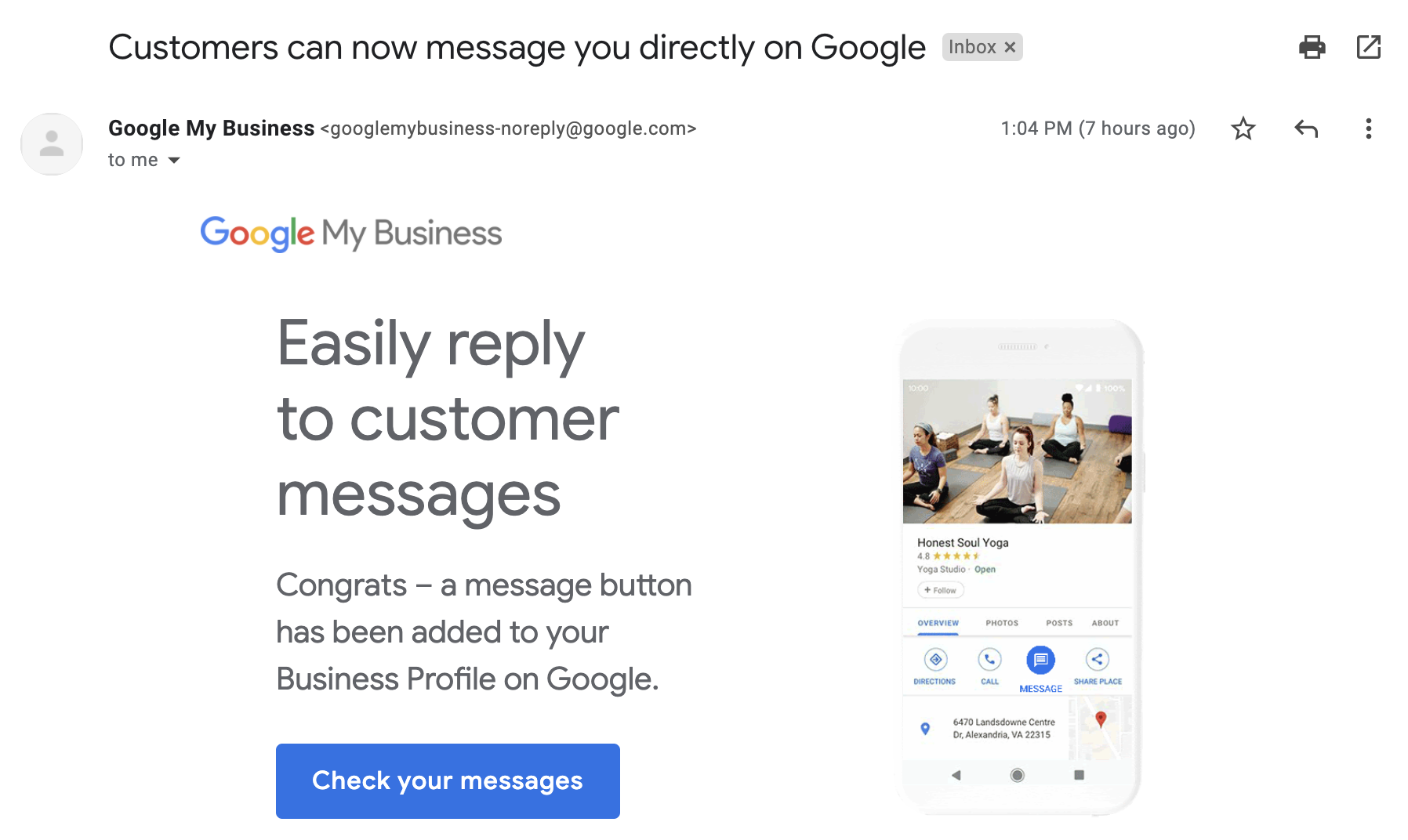 Email notification from Google about a newly activated "Chat" feature.
Once you activate the Google Business Profile Messaging service, you can see a Chat button on your listing and customers will be able to reach out to your business with any inquiries they may have. Keep in mind that when you are using this feature, you have to ensure that you will be available to respond to inquiries. Customers can see your average response time and might be discouraged to contact you if they see a longer response time. It is crucial that you reply to your customer messages within 24 hours. According to the Google Business Profile FAQ page, Google may remove the "Chat" button on your listing if you don't reply within a day.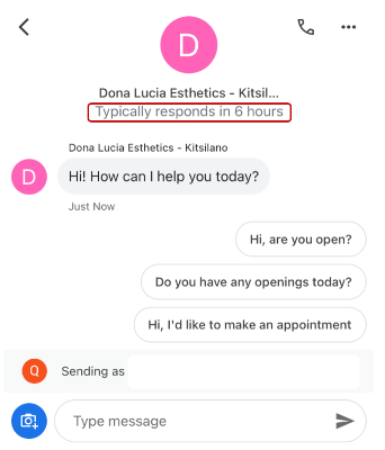 Response time is shown on the chat feature on Google Maps when customers are about to type questions.
But don't worry, Google gives you another way to notify you when customers message your business through the chat button. Google will send you an email for missed messages. Or as happened to some customers, you can activate the SMS alerts to get notifications of missed messages. According to this article, the SMS alerts used to be the primary messaging feature on Google Business Profile. However, the feature was replaced by the mobile app and web interface. It looks like Google is returning this feature for Google Business Profile. We suggest that once you activate your chat feature, wait for a notification about the new SMS alerts feature to pop up on your phone. In our experience, out of the 5 businesses that we manage, only 2 of them received a notification about this feature.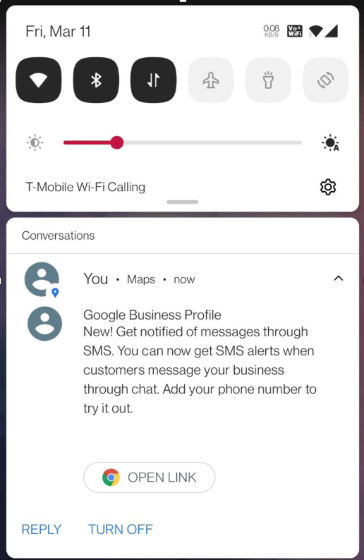 A pop-up notification about the new SMS alerts feature.
Then, enter the phone number you want to use to get notifications and turn on the "Get SMS notifications when customers send a message.".
Notifications settings page to turn on SMS alerts feature.
Google will send you a verification code to your phone number. Enter the verification code and you are all set!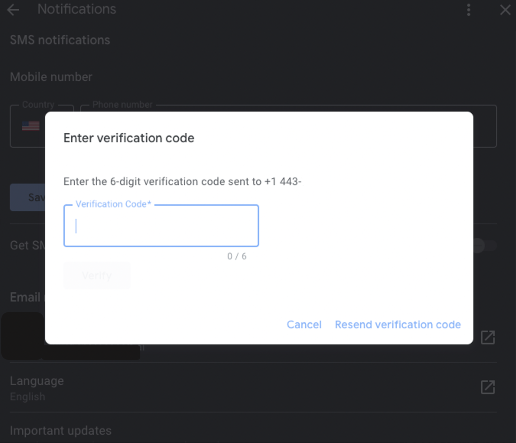 A pop-up page will appear where you can enter the verification code sent to your phone number by Google.
Now that you know how to activate a Chat button on your listing and its benefits, how do you make sure your business can keep up with a growing number of customer inquiries? It takes a lot of time and money to reply to repetitive chats. Check out our next post on Google Business Messages and how this can help you save time and money in delivering excellent customer service.
Book a demo with us and be the first to receive a free trial of our product!