Integrating HubSpot with SeaX
Easy and seamless access to both your contact center interface and your customer data in a CRM is vital to efficient customer support. In SeaX, Seasalt.ai's collaborative contact center product, you can facilitate this by integrating a CRM like HubSpot directly into your contact center interface, giving you direct access to all of your information and tools.
Many businesses are not taking advantage of the powerful automation made possible by integrating these platforms. Tools like AI-enabled virtual agents simplify your workflow and leverage your data in HubSpot.
Empower Your Virtual Agents
SeaX's omni-channel support means that you can interact with your customers across many platforms, all in one interface. Virtual agents connected to the Twilio platform can contact your customers across channels, providing basic support 24/7. These virtual agents handle routine tasks and queries, freeing up your live agents to focus on more complex calls and other tasks. Currently SeaX supports the following channels:
Discord
SMS
Webchat
WhatsApp
Facebook Messenger
Google Business Messages
Line
Integrating HubSpot gives your virtual agents access to the same customer information as your live agents. Your virtual agent's knowledge of your customers grows in real time as you record customer information in HubSpot.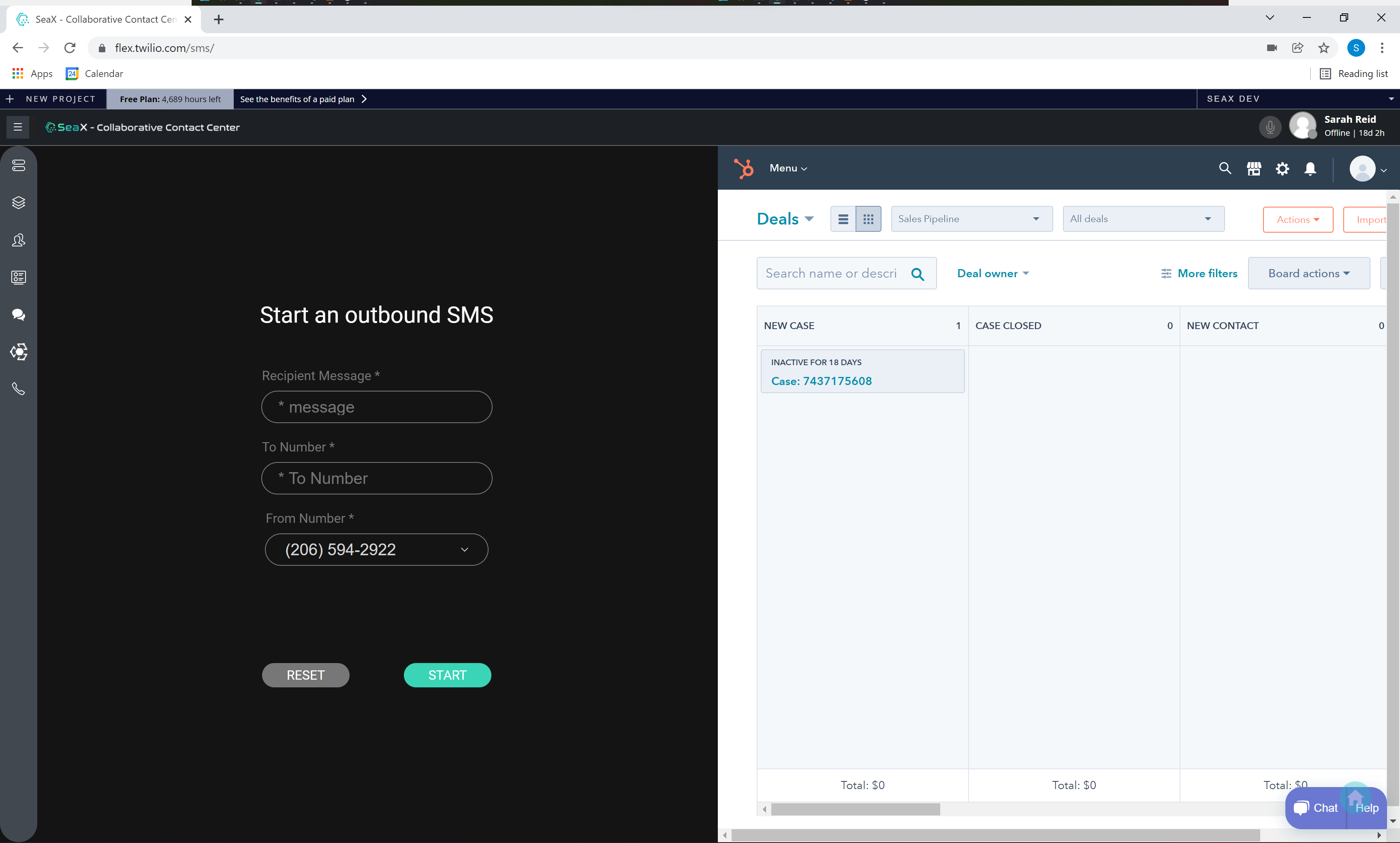 The HubSpot interface can be integrated directly into the SeaX Collaborative Contact Center.
Streamline Workflow with Automations
There are many routine tasks and customer interactions that your live agents handle on a daily basis. HubSpot has tools for keeping track of all of your tasks, and even automating certain things like sending marketing emails.
SeaX's omni-channel support adds the ability to automate messages to SMS, voice calls, Facebook Messenger, WhatsApp, and more. Combined with the HubSpot Webhooks API, which allows you to track changes in your HubSpot objects, you can send a message to customers on any channel with a simple action like clicking a button or moving a support ticket. In addition, a virtual agent can handle the customer's response, so the live agent only needs to start the conversation.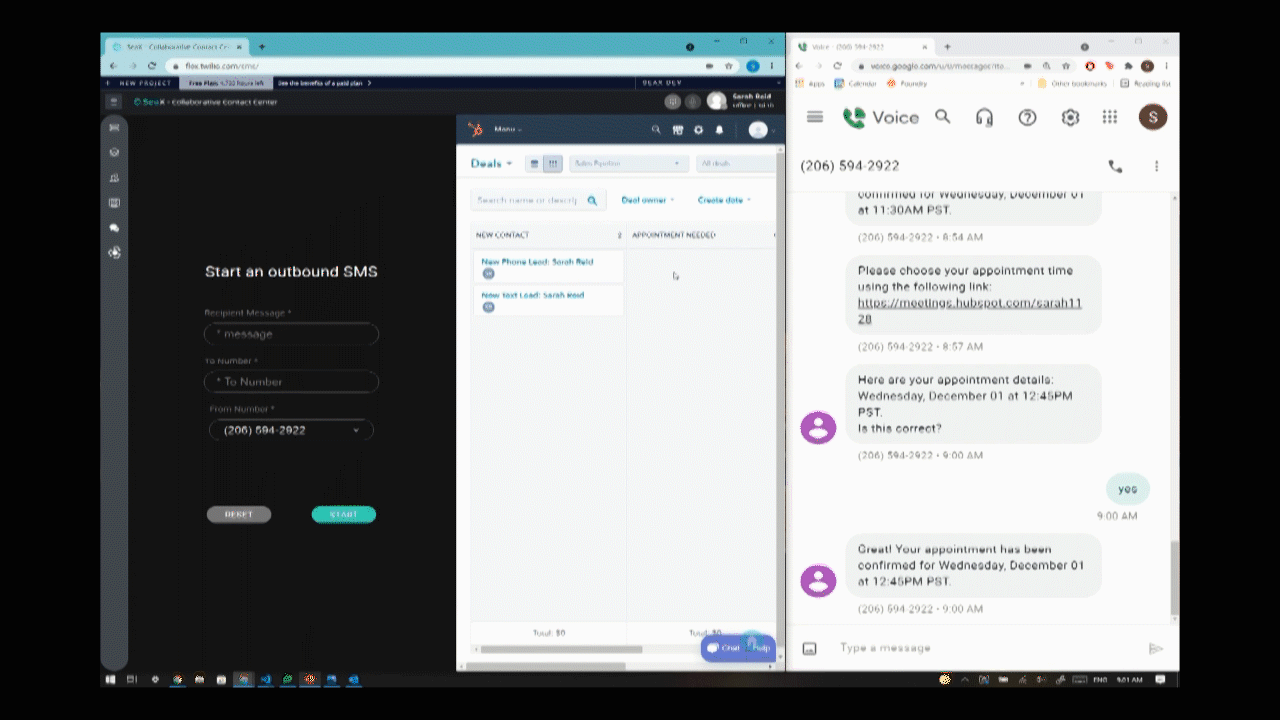 Moving a ticket in the HubSpot pipeline (shown on the left) automatically triggers a phone call to a customer (shown on the right).
Make Your Data Work for You Everywhere
Integrating SeaX and HubSpot gives you straight access to your customer data directly in your contact center interface. It also gives automation and your virtual agents the ability to interact with and add to that pool of data as well.
When you finish a conversation with a customer in SeaX, an automation can directly add the interaction to the customer's contact in HubSpot, so the live agent does not need to waste time writing up the conversation. Virtual agents can add their interactions to a customer's information too, as well as updating a customer's contact information or appointment time based on their conversation with the customer.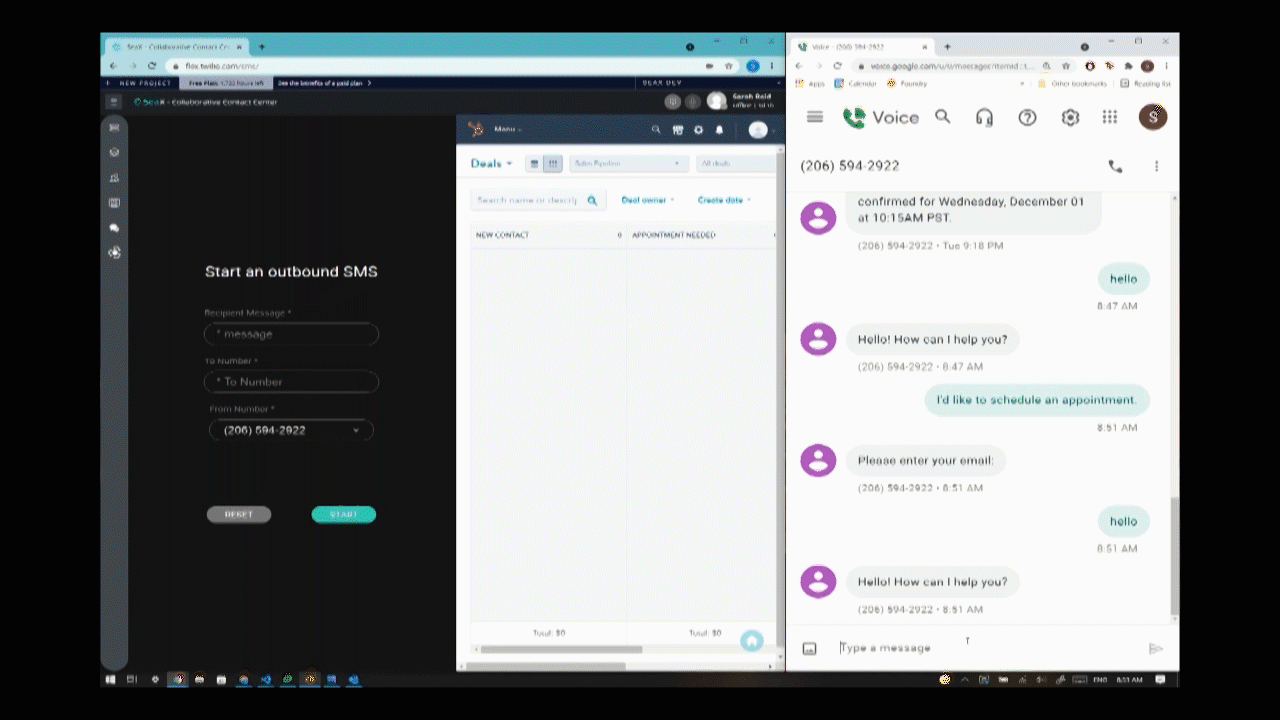 A customer talks to a virtual agent to schedule an appointment.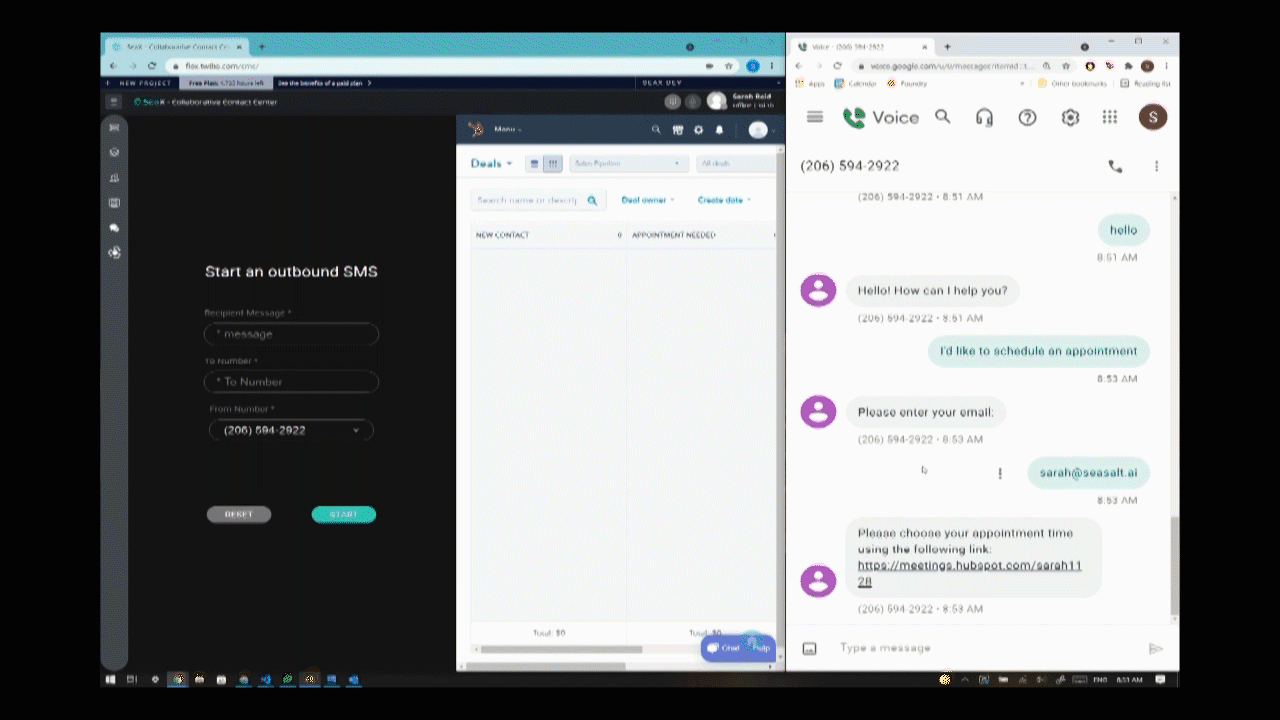 A customer finalizes schduling an appointment with a virtual agent and the new appointment is automatically added to the customer's contact in HubSpot
One Convenient Platform
In short, the integration between SeaX and HubSpot simplifies your customer support interface and gives your live agents more easier access to your customer information. Employing AI-enabled virtual agents and automation that utilize this integration frees up your live agents to be more efficient and streamlines your workflow and CRM processes.
Want to see how SeaX powered by Seasalt.ai can help your business? Book a demo today.