In our previous blog post, SeaX KB: A Knowledge Base that Answers Before It's Asked, we showed how Seasalt.ai's in-house Knowledge Base puts your company's information directly at your agents' fingertips, boosting efficiency and accuracy in your contact center. In this post, we continue on the topic of AI integrations with SeaX's Case Management system, which gives your agents powerful tools to track and record interactions with your customers directly in the SeaX interface.
Table of Contents
Ticketing vs Case Management
The terms 'ticketing' and 'case management' often get used somewhat interchangeably to refer to a system when the details of an issue are stored in some data object, which is then used and referred to in the course of the issue getting solved. However, where these two terms typically differ is in the complexity of the system.
'Ticketing' systems are usually simpler, where the ticket is used to store the details of one specific issue, and is discarded or archived when the issue is resolved. 'Case management' systems are typically more complex, and do more than just track the life of an issue. Cases are often linked to other things, such as other similar cases or the customer that opened the case, so that trends can be used to solve more pervasive issues. Information on multiple interactions with a customer over the course of the issue can be stored in the case data, so each subsequent agent that handles the case knows exactly what is going on. A case can be closed and then reopened if the customer returns with a recurring issue. Case management is a more powerful and flexible tool to keep track of more complex tasks and interactions within a contact center.
SeaX Case Management
Our case management is based on the principle of being easy to use while interacting with customers. The last thing an agent needs while assisting a customer is to have to worry about remembering everything to jot down notes after the call, or be forced to switch into multiple different programs just to talk to the customer, find existing information, and take notes on the new information.
If you want to get straight to a demonstration, you can watch our short SeaX Case Management demo video:
Embedded User Interface for Live Agents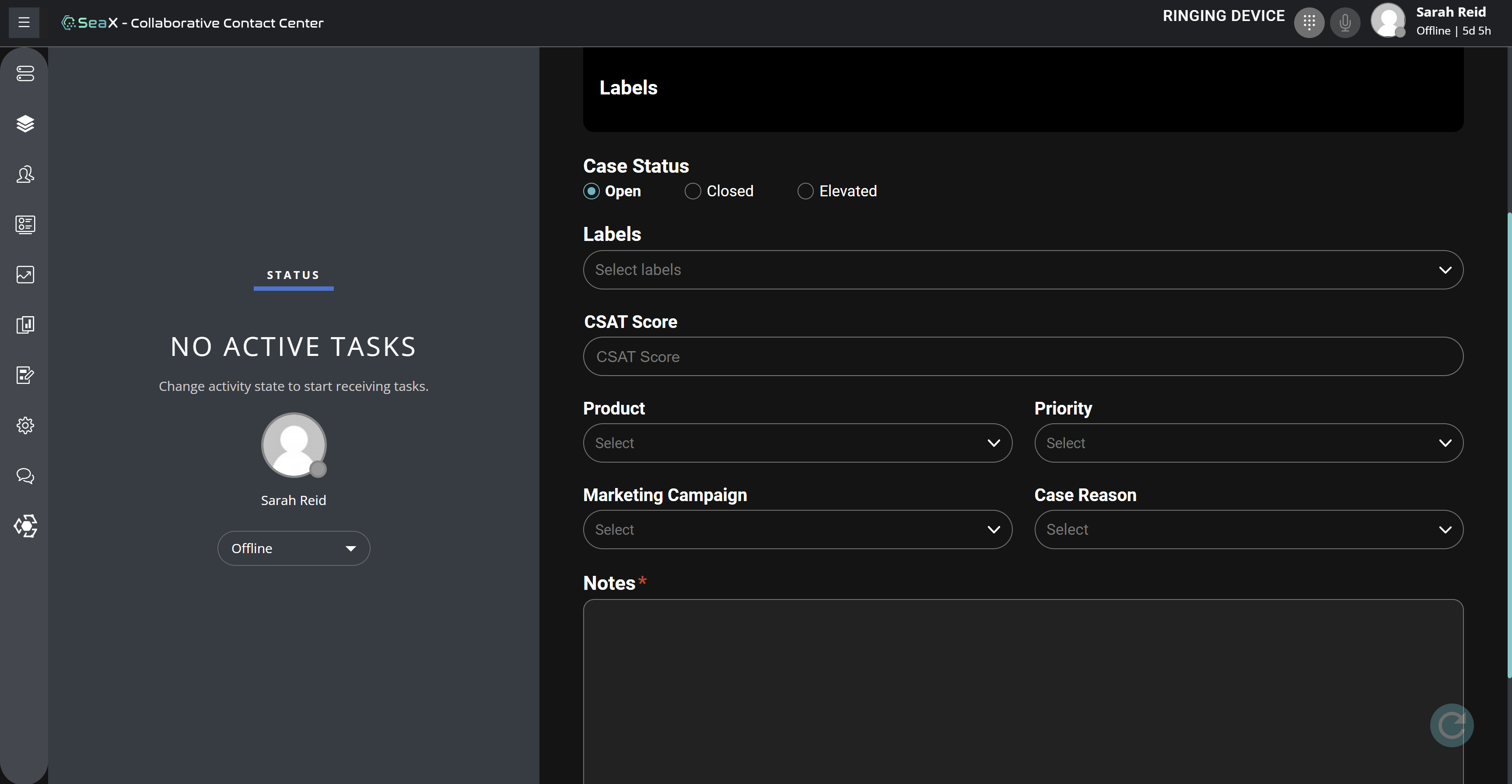 First look at the SeaX Case Management interface.
As our focus was to make case management accessible to agents, the SeaX Case Management System is natively integrated into SeaX. Agents can add new cases, edit existing ones, and take all the notes necessary in the same interface where they handle calls and messages. No switching windows, no flipping through tabs, no navigating through nested web pages.
Powerful Automatic Search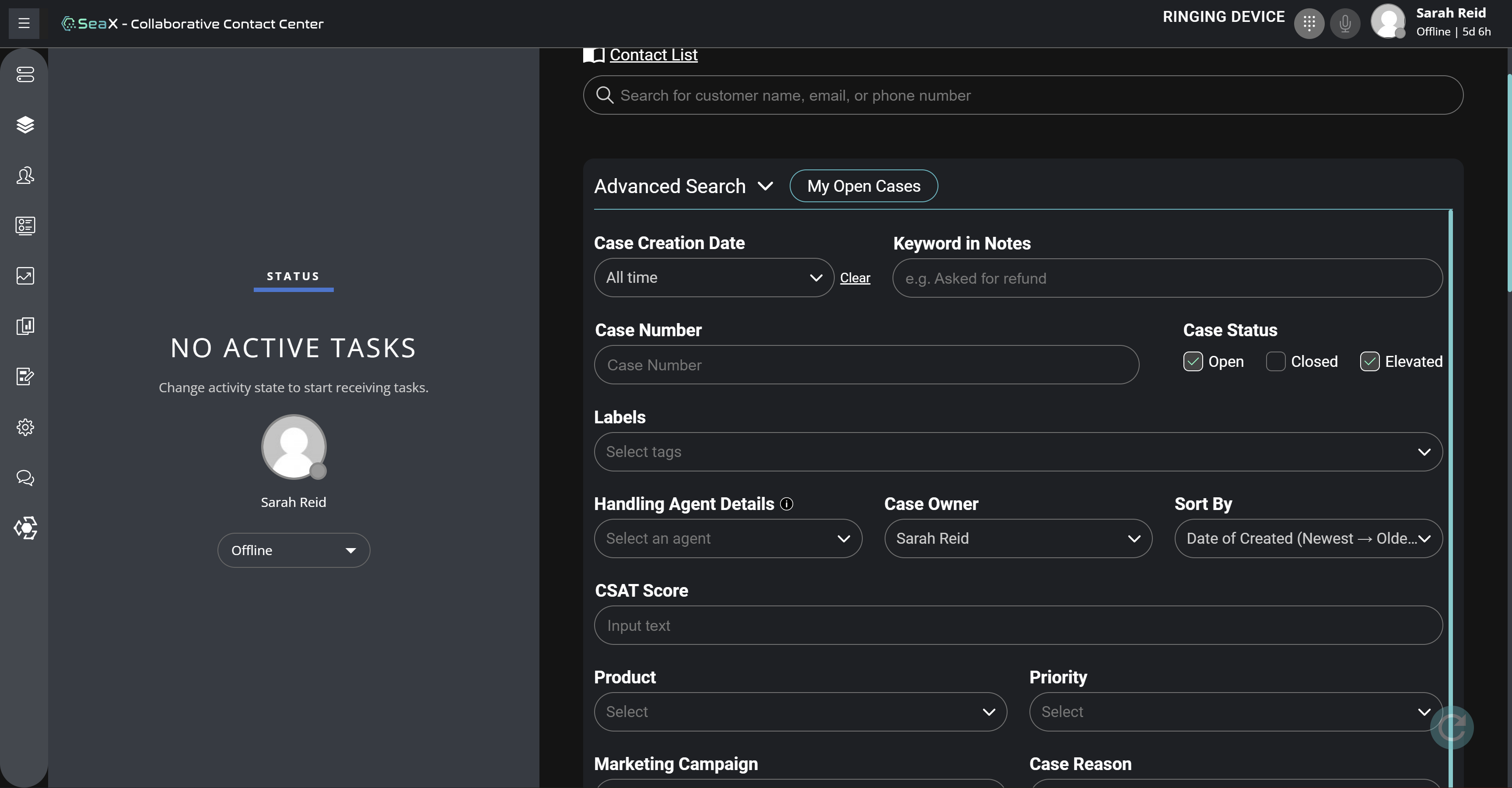 SeaX Case Management search interface.
Our fast and accurate case search allows you to search and sort by any aspect of your case information, including full text search of agent notes and filtering by your own custom data fields.
Integrated Contact Management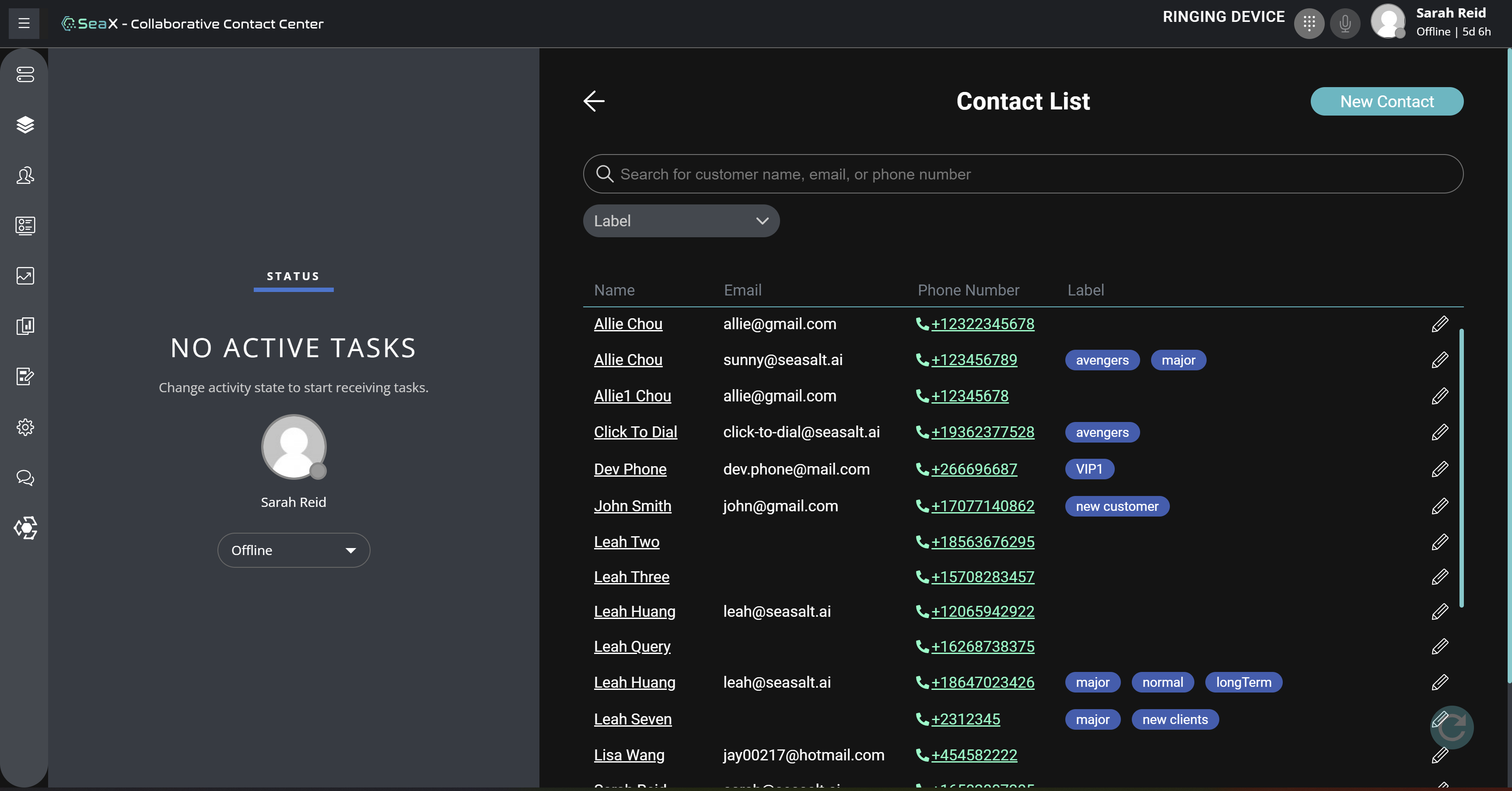 SeaX Case Management customer contact interface.
In addition to managing case information, we also provide contact management to store your customer information and link customers' cases together. As with cases, you can store notes on customers and group them by labels to keep track of exactly who is calling in to your contact center.
Linked Customer Interactions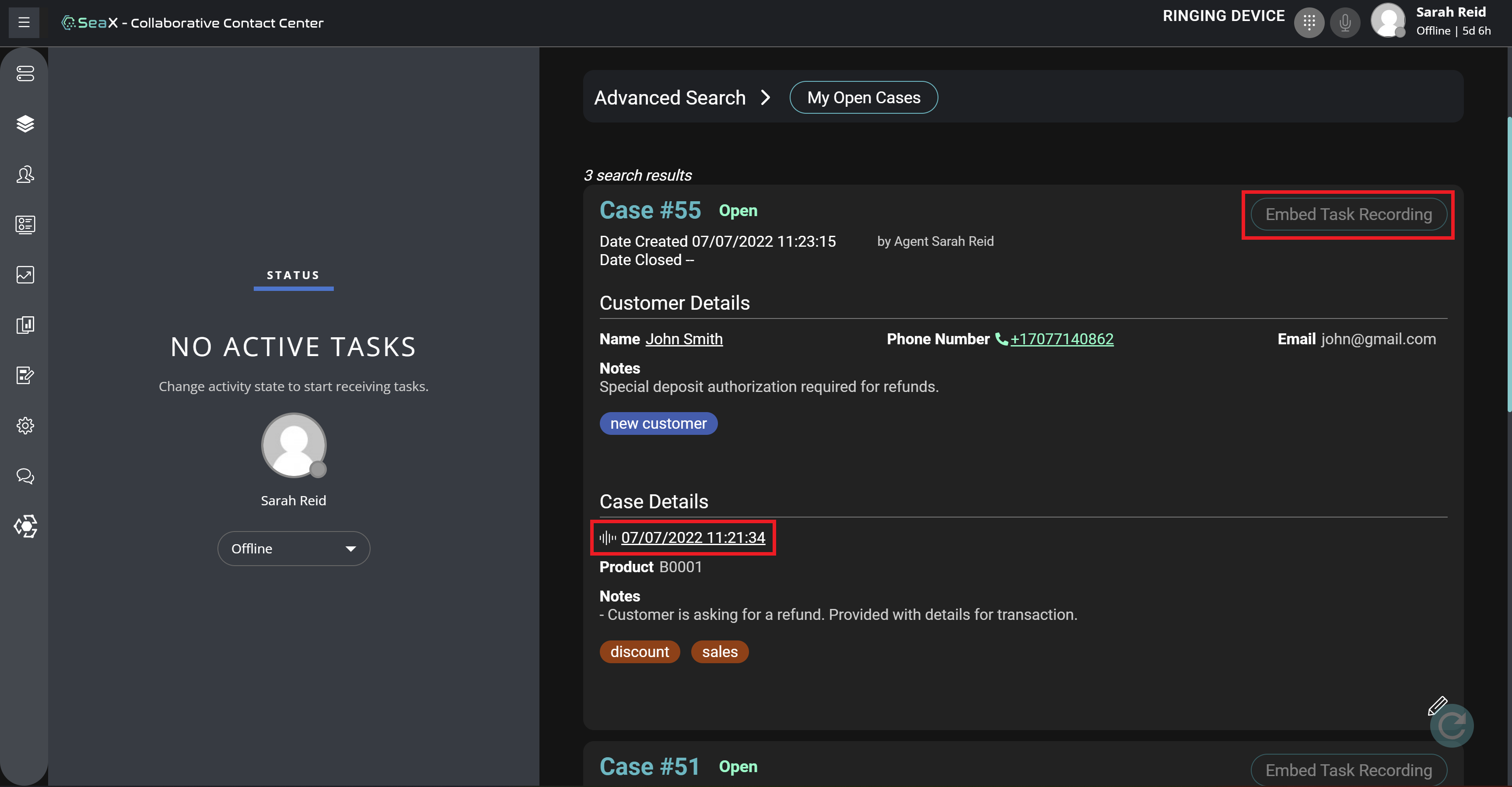 Embed your call recordings directly into the associated case.
Every case is linked to the associated contact, but we can also link individual calls to the associated case as well. With the 'Embed Task Recording' function, you can directly attach the call recording to the case, allowing future review of exactly what happened in each associated customer interaction.
Customizable Fields

Define custom data fields to store the customer and case information that is important to you.
We understand that every company is unique, and that every contact center will need to collect different types of information in their cases. Therefore, the SeaX Case Management System provides the base set of important data fields, while providing a custom field function so you can add additional data fields to both cases and customer contacts to collect whatever information you need in your contact center.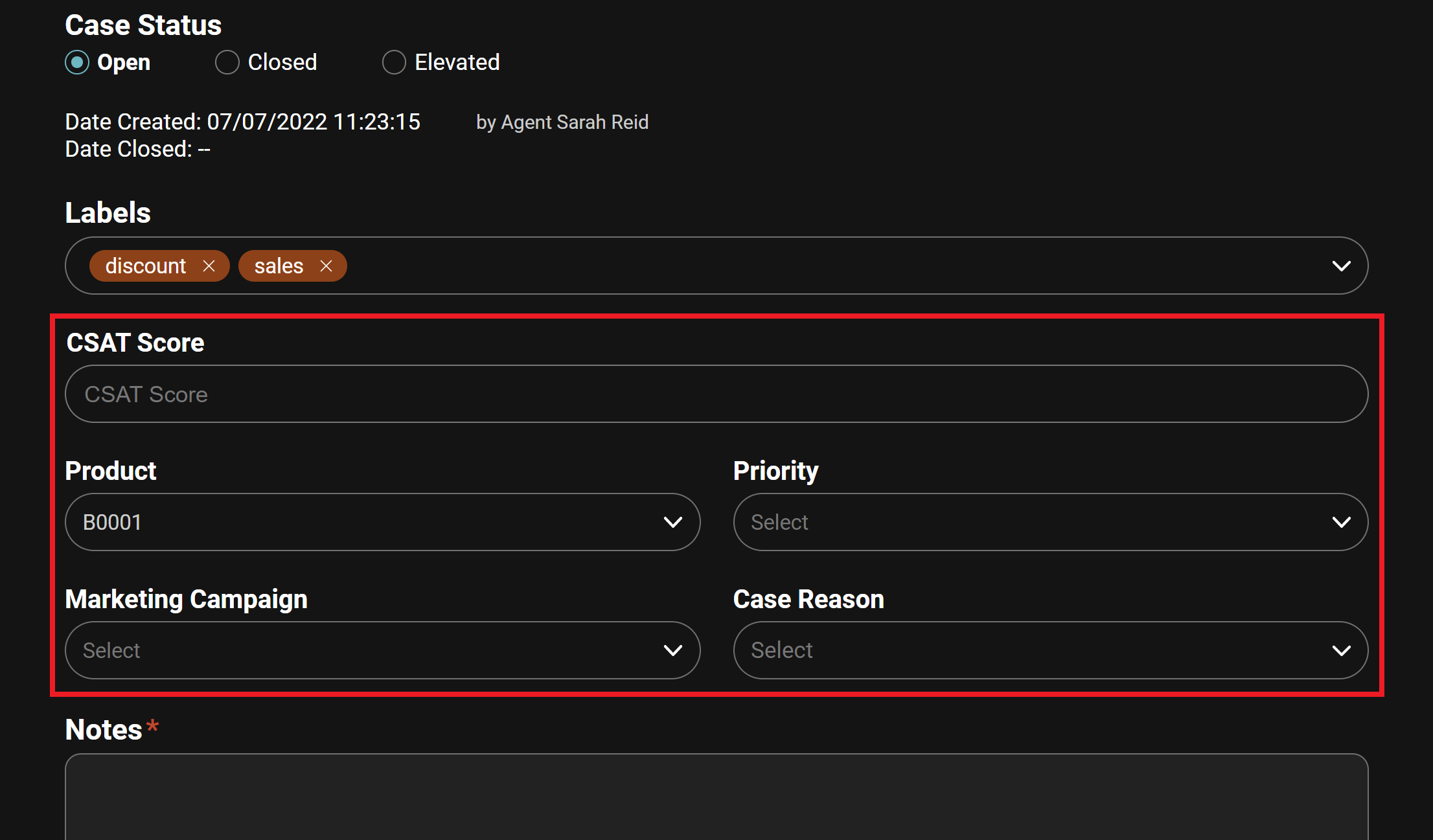 Access your custom fields directly in case and contact cards.
Automated Case Follow-up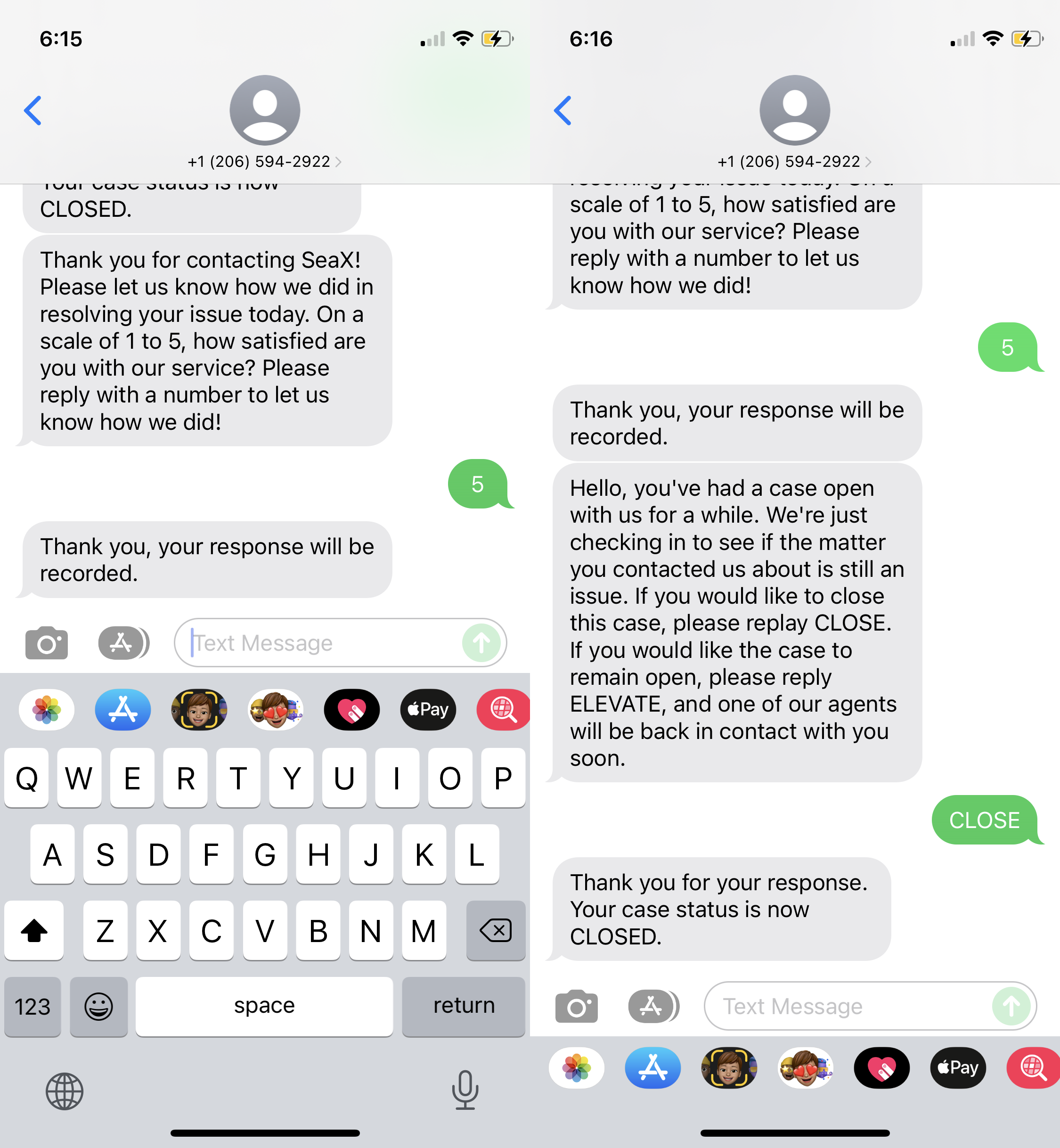 Automate messages to collect case status and CSAT scores from customers.
There are a number of small repetitive customer interactions that must be done in a contact center to ensure that cases are handled properly. The SeaX Case Management System can automate these conversations for you, so your agents can focus on the more complex issues. With the click of a button, you can send a message to a customer to check in on the status of a case that has been open for a long time or request a response on a customer satisfaction survey, and the system will automatically update their case information based on their response.
Administrator Dashboard
Control the information in your case management system with the administrator dashboard.
It is one thing to store information about the cases in your contact center, and another to manage the cases in your contact center. The SeaX Case Management System provides an administrator dashboard so you can do just that. From here you can monitor all the cases in your system and dig into the details to determine which need attention. You can sort by time range or agent, send automated status check in messages, or search for cases with a specific tag, whatever is necessary to manage your cases.
Webinar
If you'd like to see a more in-depth walkthrough of the case management system and how it integrates with the SeaX platform, please watch our webinar on the subject:
Thank you for taking the time to read about how the SeaX Case Management System supports your agents as they interact with your customers. Please stay tuned for our next blog post, which will dive into the process of sending bulk SMS messages using the SeaX platform. If you're interested in learning more right away, fill out our Book a Demo form to get a first hand look at the SeaX platform.