Learn more about the benefits and limitations of Google Business Messages and how businesses implement Google Business Messages.
Enabling a chat feature on your Google Business Profile can help you connect with your customers. However, as customers reach out to you more on chat, you might not have the time and resources to reply to each chat, especially during closed hours. Moreover, most of the inquiries can be repetitive. At the same time, customers expect instant answers from businesses. If businesses don't meet their customers' needs, they risk losing existing and potential customers.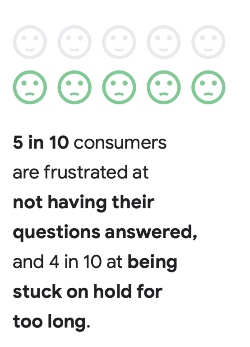 What is driving the future of messaging in the United States? (source)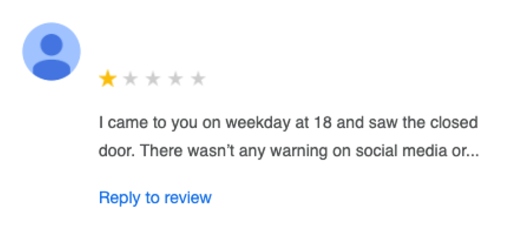 A 1-star rating by an upset customer due to lack of communication by a business owner.
In our previous article, we walked you through how you can avoid missing customer messages with Google's SMS alert feature. But we understand that as business owners, responding to customer messages takes a significant amount of time, and there are a lot of other things that you have to look after beyond just customer care. That is why we want to introduce you to Google Business Messages.
About Google Business Messages
Google Business Messages is a next-generation conversational experience that solves the problem of providing real-time responses to your customers when a human is not available. While Google Business Profile lets business owners chat directly with customers via the chat button on Google Maps, Google Business Messages takes it a step further by enabling integration with a virtual agent. According to chatbots.org, a virtual agent is "a computer-generated, animated, artificial intelligence virtual character (usually with anthropomorphic appearance) that serves as an online customer service representative".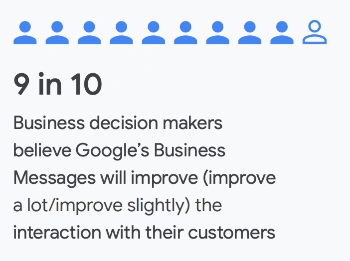 Making it personal: How smart communication tools drive business results (source).
A virtual agent is often referred to as a digital assistant. Virtual agents use a technology called Natural Language Processing (NLP) to provide automated responses. Virtual agents can benefit your business by reducing response time, providing 24/7 availability, and improving customer experience. That is how Google Business Messages can help you provide high-quality automated responses to your customers.
Additional benefits of Google Business Messages include:
Provide instant answers to your customers' inquiries
Save time and money in delivering excellent customer
Build trust with your customers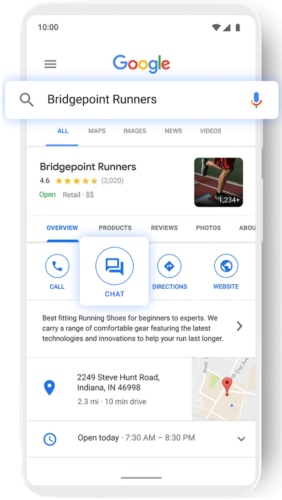 Google Business Messages integrates a virtual agent directly into your chat button.
How Businesses Implement Google Business Messages
To give a better understanding of how Google Business Messages can help your business, let's take a look at some of the examples from Walmart, Levi's, and Albertsons Companies.
1. Walmart
Walmart is among the first companies to implement Business Messages (Google Blog). With Google Business Messages, Walmart provides up-to-date information about store hours, products, COVID-19 vaccine and testing, pick-up and delivery options, return policy, and more. Customers can get instant answers at any time of the day.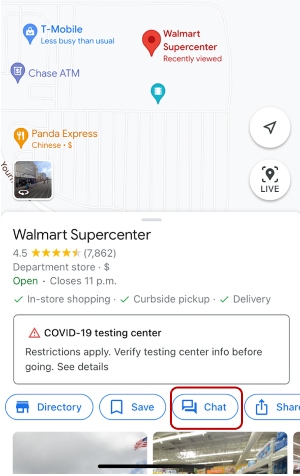 Customers can reach out to Walmart via the chat button on Google Maps (mobile only).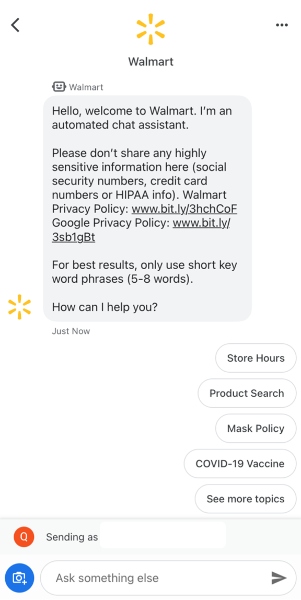 Customers can ask questions about store hours, products, mask policy, COVID-19 vaccine, and more.
2. Levi's
Levi's is a clothing company known for its Levi's denim jeans, with 3,100 retail stores across 110 countries. During the pandemic, Levi's observed that shoppers spent a significant amount of time on pre-purchase research and that store hours can change more frequently. Levi's wanted to convert shoppers into actual customers and provide fast responses to shoppers' inquiries.
In June 2020, Levi's implemented Google Business Messages with the goal of improving the customer experience by providing up-to-date information about the stores and products. Levi's leveraged Google Business Messages' ability to help customers any time of the day and as a result, was able to achieve 85% customer satisfaction (CSAT) scores. Levi's also saw that there were 30 times more store-related questions that were resolved. Learn more about how Levi's implemented Google Business Messages here.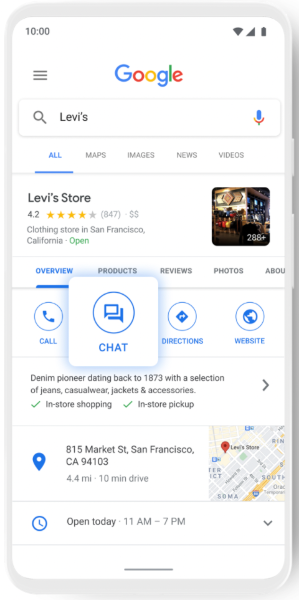 Customers can reach out to Levi's via the chat button (mobile only).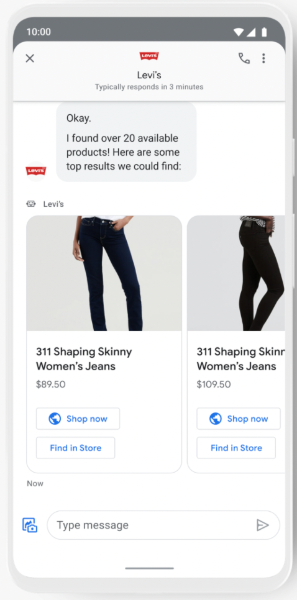 Customers can view Levi's products when interacting with Levi's virtual agent.
3. Albertsons Companies
Albertsons Co. owns several pharmacies across the United States including Safeway, Jewel-Osco, Vons, Albertsons, Shaw's, and more. In late 2020, during the initial release of COVID-19 vaccines, there was an increase in online searches for vaccines. There were more questions about vaccine eligibility, appointments, and where people can get the vaccines. Albertsons Co. decided to activate Google Business Messages to provide up-to-date information about eligibility criteria, appointments, availability, and more. As a result, they were able to reduce the number of incoming calls, prevent possible misinformation, and help customers 24/7.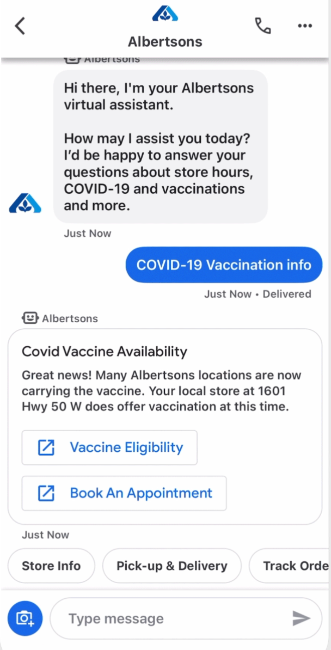 Customers can get information about vaccine eligibility and book an appointment.
Google Business Messages is a great way to save time and money in answering repetitive inquiries, building relationships with customers, and improving the overall customer experience.
Barriers for Implementation
There are two main limitations with the common implementation of Google Business Messages as seen above.
First of all, creating and maintaining an excellent virtual agent is not a simple task; it requires advanced knowledge of conversational AI and significant development time. Businesses utilizing Google Business Messages need to pay a professional consulting agency to create a fully customized experience for them from the ground up. These are usually expensive and can take months. Large enterprises such as Levi's, Walmart, and Albertsons Companies, are the ones who can afford such a special service. The consultant agency is usually also fully in control of the development & upkeep of the product. If you have to make changes, you have to go through the agency and this takes extra time.
Second of all, Google Business Messages is a replacement for the messaging capability built into Google Business Profile. As business owners, you have the ability to enable the chat button on the Google Business Profiles and reply whenever you are available. However, when you implement Google Business Messages, your incoming messages are routed to your live agent, and you lose your ability to chat directly with customers within Google Business Profile or using the Google My Business app.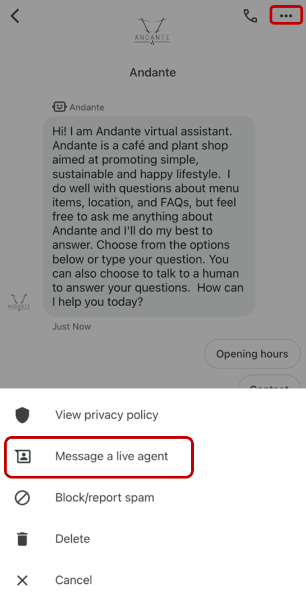 If the live-chat solution is enabled, customers will be able to click "Message a live agent" to directly talk to business owners.
If you still want to directly talk to your customers while using Google Business Messages, you need to ask the consulting agency to provide a live-chat solution. If this feature is enabled, customers can click the "Message a live agent" button, and then you will be able to join the conversation and chat with the customer. From the live agent's side, the conversations will take place on whatever platform the consulting agency has chosen to integrate with; this could be via text, WhatsApp, Messenger, an existing customer service software like Zendesk, or a custom-built website or phone app.
That is why we want to introduce you to our solution, Near Me Messaging, which provides an affordable, fast, and easy implementation of Google Business Messages for SMEs with fully customizable, self-serve, and live-chat capabilities. Stay tuned for our next post about Near Me Messaging and its exceptional features. Book a demo with us and be the first to use Near Me Messaging!